bring an abandoned house back to life
In a collaborative effort between Copenhagen-based architects Jan Henrik Jansen and Marshall Blecheran abandoned cottage in the north Germany gives itself a new life. The structure had punctuated the extensive marshes it had built by farmers, or 'crofters', in the 1800s – a legacy that gives Nieby Crofters Cottage its name. Abandoned for more than a decade, the small building had fallen into disrepair, its roof partially collapsing and its ceilings low.
The current owners called on the design team to renovate the Cottagerestoration of the original brick structure and thatched roof through a contemporary lens. The result presents itself as a thoughtful hybridization of historic, rural and modern architecture.
pictures © José Campos | @josecamposphotographer
the renovation by marshall blecher and jan henrik jansen
Occupying a small triangular plot in the endless barley fields of Germany's Geltinger Birk nature reserve, Nieby Crofters Cottage is a retreat into nature. The design team includes Jan Henrik Jansen and Australian architect Marshal Blecherfounder of the maritime architecture studio MAST (see the studio's latest innovations in floating architecture here). recognizing the importance of preserving the historic look of the dwelling, noting the prevalence of such similar buildings in the area that have been "renovated beyond recognition".
Keeping the traditional architecture largely intact, the street-facing facade is retained with only a "black steel skylight belying the more substantial alterations that open to the private rear courtyard". The most notable addition comes in the form of a subtle, glazed volume with a black frame and oak interiors. this glass box is nestled under the restored thatched roof and opens onto a sunken terrace. Meanwhile, large windows cut through the existing brick walls in their most damaged areas, flooding the interiors with soft light.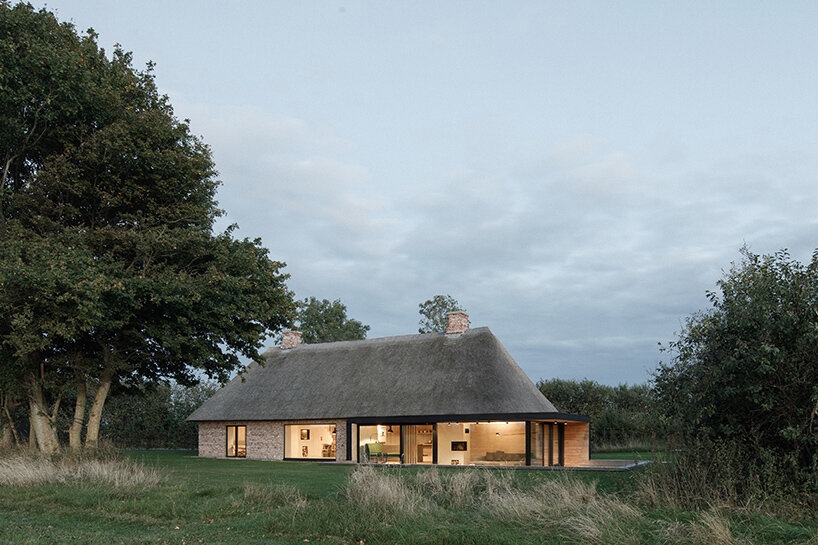 inside nieby crofters cottage
Injecting a contemporary layout into the cloistered Nieby Crofters Cottage, the duo introduce an open floor plan. What was once divided into fourteen small rooms is now open to a large kitchen and dining room with a high chapel-like ceiling. The design team explains the process of renovating the interiors: "A six meter long concrete plinth standing in the center of the room, which also serves as an island bench and dining table, had to be lowered into the house by a crane while the roof was being rebuilt.'
"The interior combines historic elements, including small wooden mullioned windows and exposed oak rafters, with sharp, minimal and modern interventions. The walls of the house are finished with a textured chamois coating while the joinery, doors and furniture are custom made in German oak to match the floorboards. The house now meets German sustainability standards; it is highly insulated, has underfloor heating and custom triple glazed windows.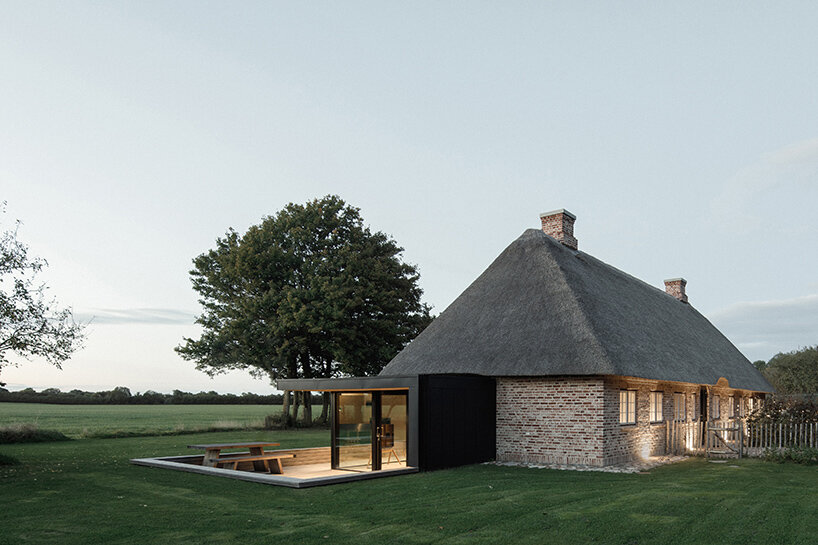 a glazed black-framed volume is tucked under the restored thatched roof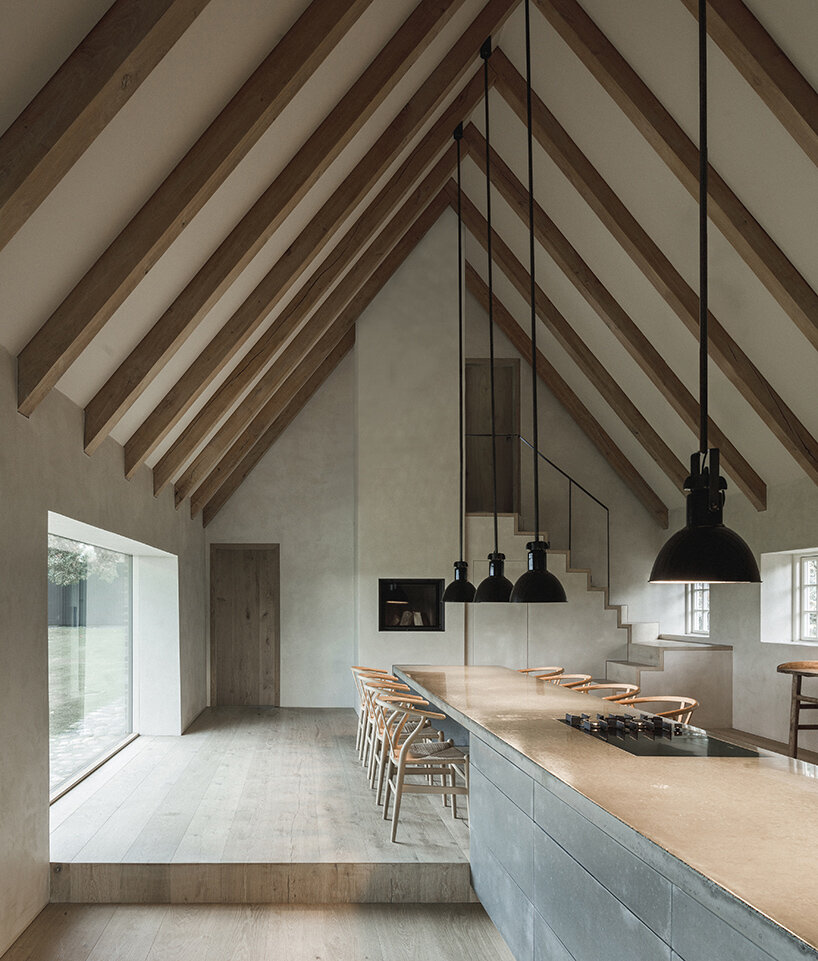 what was once fourteen small rooms is now a large open plan kitchen and dining area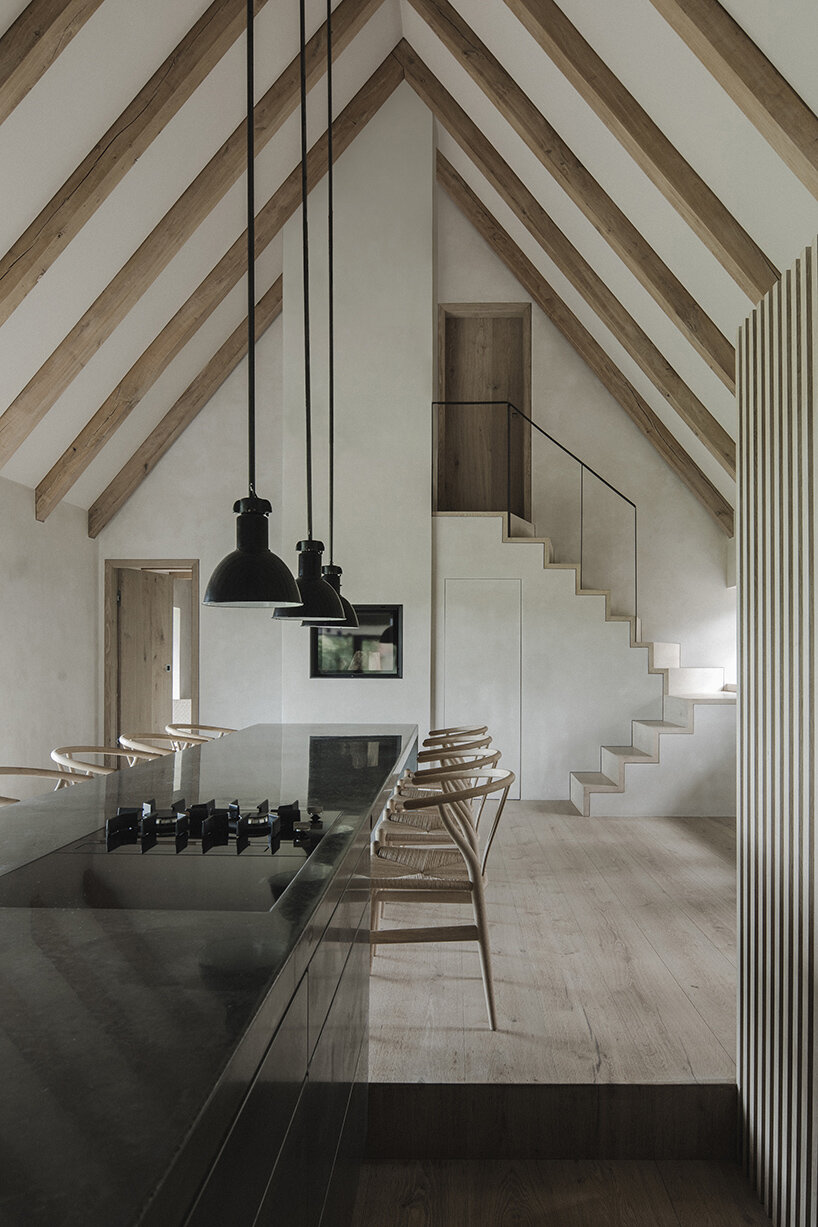 a six-metre-long (twenty-foot) concrete island occupies the center of the room